About Us
SportsCarLA. Your one stop classic car dealership.
Located just south of the bustling Downtown Los Angeles, our half acre showroom sports an impressive and unique collection of interesting and fun cars, dating mainly between the 1950's to the 1980's. With a constantly rotating and ever growing inventory of beautiful cars, browse our collection online and make an appointment to visit our showroom or just pick up the phone.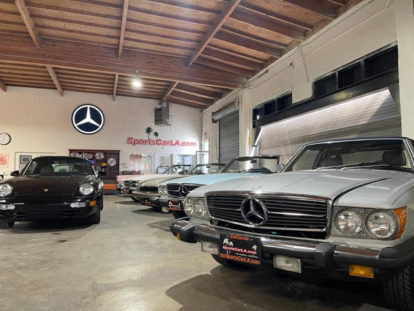 Sportscar LA has been built on a lifetime of passion for unique sports and classic automobiles.
With over 50 years combined experience, speak to Edward Gibson or Roy Steele about any exciting vehicle you want to buy, sell, or ship.

Our vast customer base is spread to every corner of the world and all with differing tastes.
CLASSIC MERCEDES DIVISION

Sportscar LA in the last 10 years has also set up a large classic MERCEDES Department specializing in the 107 chassis cars.
560SL
380SL
450SL
350SL
280SL
And more
We have one of the largest collections of these models in the USA.
We can tailor make a Mercedes SL for you with your personal color (inside and out) and certain specs also.
We have full mechanic and service bays along with a leather upholstery and convertible top department.
"Important Details"
All our Mercedes are put through the service department before being delivered.
We inspect…
Fuel systems and pumps
Steering box and couplings
brakes
All transmission and engine mounts
suspension, steering, and bushings
A/C
all cooling and fluids
*We will undertake any repairs required and will advise you on anything your car may need in the future*
SportsCar LA
410 East 58th Street
Los Angeles,
CA 90011
Business Hours
Monday - Saturday
By Appointment Only